Pura Vida means "simple life" or "pure life." Simply put it means to Live in the Moment. Good day or bad day or something not going your way…it doesn't matter. The Pura Vida spirit lived in me when I saw three species of monkeys, sloths up in trees, and when it rained (down poured) during our visit in rainforest on the aerial tram ride.
Pura Vida means 'Live In the Moment'
We currently live in a world where we expect fast results. We can search for something on the Internet and we can expect to find answers about it in less than 30 seconds. We want certain things and expect it will happen as we want it too. What happens when it doesn't go your way? Are you feeling sad? Anger? Defeated?
When You Live In The Moment…
When you live in the moment you start to appreciate that certain events occur for a reason just like nature. Even in nature there is good and bad events, but what may seem like a bad event actually turns out good. For example, forest fires would be seen as a bad moment; however, new plants and trees can grow from this natural event. Pura Vida spirit lives in nature.
How You Can Make Changes To Live In The Moment….
From a Law of Attraction perspective, you 'attract to your life whatever you put your energy, attention or focus on'. So being MINDFUL of what you are saying and doing is key to moving into a positive space.
Notice what seemingly 'bad events' have turned out well for you and what good events have even become better.
Live and be in the moment because the only time you have is right now.
Express Gratitude daily – journal if that appeals to you.
Take time to get out into Nature – it's one of the best ways to connect and release stress.
Breathe deeply and slowly to embrace the moment.
Choose PURA VIDA!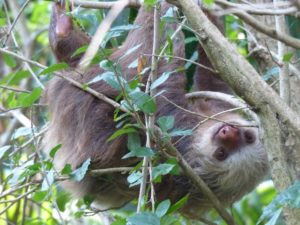 This baby sloth looks like it knows all about living the PURA VIDA spirit!
Grace CW Liu is an expert Transition Navigator who will help you to navigate through your biggest challenges about yourself when going through your career, relationship, health, and/or life transition.
Here are just some of the benefits you will get when you work with Grace CW Liu, GraceSOULutions.com
Through my programs: WORRY Eliminator and ColorCode Personality, I teach you how to deliberately use and navigate the program that will get you to live more of your Soul's purpose.
As a Transition Navigator, I will help you to design, navigate, and manifest the results you want in your life with peace, happiness, ease, and grace. Together we solve your problems so that you create a whole new way of looking at life.
My CLIENTS typically are people who:
Are in some kind of LIFE TRANSITION
FEEL STUCK in their life right now
Want MORE in LIFE than what they currently have
Need guidance while in CAREER TRANSITION
Know they can find a HARMONIOUS RELATIONSHIP
Lack energy and WANT TO GAIN VITALITY
I work with my clients to help you select the best program(s) that will meet your pressing needs. Once you have selected the best-fit program for you we will work out a plan that will help you navigate from where you are now, to where you want to go. We will bridge the gap together!
Sessions can be done with one-on-one training or in group training via telephone or Zoom (video conference). You will get both support and accountability when you work with me in order to help you to succeed.
Clients often say this about me: "You may be nice and sweet, but you can also be tough and always put me back on the right track." And personally, I consider that a great compliment!