August is one of my favorite months because it is my birthday month. Woohoo!
Another year older and hopefully also wiser.
August is also one of my saddest months not because it is a reminder that I am getting older, but my beloved grandmother who often shared her words of wisdom with me also had passed away on my birthday.
My grandmother frequently advised me to grab on to any opportunities and dreams that I wanted because she told me you don't want to regret for not trying or going for it.
It doesn't matter how old you are, your gender, what you are doing, or what stage in life you are at as long as you go for it all the way without holding back.
Since it is both my birthday month and reminder of my grandmother's passing, I usually spend a lot of time reflecting during this month about my past and future goals.
What I accomplished or didn't accomplish and what I want to accomplish moving on forward.
There is a great quote that reminds me of my beloved grandmother: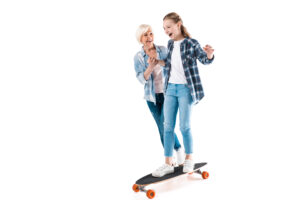 This is my birthday month which means I may be a year older, but not too old to set a new goal or dream for myself to accomplish.
QUESTIONS TO NAVIGATE YOUR MIND ON…
What goals or dreams do you want to accomplish?
What goals or dreams did you have that weren't achieved? Why didn't you achieve them? (Related to age? Skills? Finances? Time? Other commitments?)
Why do you want to achieve your current goals or dreams?
What action steps have you taken or are going to take that will help you towards achieving your goals or dreams?
If you know what action steps to take that will help you to achieve your goals or dreams, but have not taken them yet, then what is stopping you or holding you back? What are you afraid of? What are your fears? (Fear of failure? Imperfections? Overwhelming Challenges? Etc)
What goals or dreams did you achieve when you managed to overcome your fears?
If you feel driven by the dreams and visions of your heart but don't know where to start,
Contact me here and I'll get you started on the right path.
Warm regards,
Grace CW Liu
Transition Navigator
W: www.GraceSOULutions.com
Grace CW Liu is an expert Transition Navigator who will help you to navigate through your biggest challenges about yourself when going through your career, relationship, health, or other life transitions.
Through my programs: WORRY Eliminator, Color Code Personality, and Discover Your Sacred Gifts, I teach you how to deliberately use and navigate the program that will get you to live more of your Soul's purpose.
As a Transition Navigator, I will help you to design, navigate, and manifest the results you want in your life with peace, happiness, ease, and grace. Together we solve your problems so that you create a whole new way of looking at life.