Are you afraid of conflicts so you avoid it as much as possible?
What are some opinions that you have that other people may agree or disagree with?
What opinions are you willing or unwilling to share with others?
Why are you willing to share your opinions or not?
Everyone has an opinion, and I am sure you have an opinion about something. I know I do.
Whether or not you are comfortable sharing your opinion with other people may be in question based on how comfortable you are with sharing your opinion with others.
How comfortable are you when someone agrees or disagrees with your opinions? Or a better question might be how comfortable does a person make you feel when you agree or disagree with them?
The person's response or reaction when you share your opinion may either make you feel comfortable in sharing your opinion further or make you feel that perhaps it's better to keep your opinion to yourself to avoid any conflict, especially when you or the other person has a disagreeing point of view.
Here are five tips or questions to ask yourself before you consider sharing your opinions:
Tip #1 TRUE, is it true?
Are there facts that can back up your opinion? Are there facts that can back up the other person's opinion when there are differing opinions?
Tip #2 HELPFUL, is it helpful?
Is the information being shared helpful to each person? How is it helpful? Does it bring more knowledge or value to each of the people involved?
Tip #3 INSPIRING, is it inspiring?
Does the discussion of the opinions inspire the person to take action? What action might that be? Does it inspire growth, learning, or wisdom?
Tip #4 NECESSARY, is it necessary?
Is it necessary to persuade the other person to think the way that you do? Is it necessary for you think the way that person wants you to? Is it necessary to continue the conflict when both parties are unable to agree?
Tip #5 Kind, is it kind?
Are the words you say and use impeccable? It is okay to disagree and have arguments; however, are the words being used during the argument kind? You can state the way you feel and think without name calling and being vicious.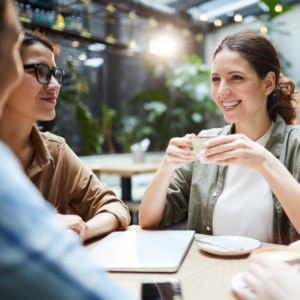 The next time you are in a communication situation, and you are not sure whether or not to share your opinion, just remember THINK:
Is it True ?
Is it Helpful ?
Is it Inspiring ?
Is it Necessary ?
Is it Kind ?
If you are driven to communicate with confidence, have your messages, be heard and understood, and repair any communication breakdown in your personal communication relationship, then you should take a look at my ebook 5 Strategies For Effective Companion Communication! Grab your free copy by signing up below:
Grace CW Liu believes there is a solution to every problem including communication and conversation problems. Everyone can find the solution they seek by using the guidance of grace that is in you, with the grace of spiritual support, and Grace –me– as your Communication Navigator and support system.
My passion is to help sensitive, conflict-phobic, and introverted women have effective communication so they feel valued and heard in any conversation.
Through studying and observations, I've realized why communication breakdown occurs and the solutions to solving those problems. I've presented these solutions so that communicative partners can achieve effective communication!